Email News May 2017

Welcome to the May 2017 Email Newsletter from Marine South East...
If you would like to submit an article for consideration please email the text and a suitable image or logo to sj@mseuk.org
Posted 2017-04-11 11:45:09

£15M Manufacturing and Materials Round 3 to open soon ...
Innovate UK is to invest up to £15 million in innovation projects in manufacturing and/or materials. Funding will be awarded to projects that focus on identified technical or commercial challenges.
Posted 2017-04-11 12:29:13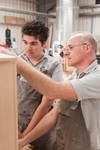 New guidance published to help employers recruit more apprentices...
New apprenticeship funding rules and management processes are being introduced for new apprenticeships starting from May 2017. To help employers, the Government has produced a range of guides to help them fully understand the new rules and processes.
Posted 2017-05-02 08:56:35

New City and Guilds Diploma in Boatbuilding available in Solent...
Posted 2017-04-26 22:04:12

Very successful Defence and Maritime Dual Use event held at Ocean Business...
Marine South East hosted a very successful Defence and Maritime Dual-Use Conference at the recent Ocean Business exhibition which was funded by the European Commission.
Posted 2017-05-02 09:45:49

Government Subsidies for Degree Apprenticeships...
Marine businesses can take advantage of significant Government funding available to develop new talent and existing ambitious members of your team.
Posted 2017-04-18 15:47:05

Nominations open for the Seawork Maritime Awards...
Nominations for the prestigious Maritime Professional of the Year and Maritime Sustainability Award are now open.
Posted 2017-04-26 21:45:16

Solent LEP Solent Skills and Productivity Investment Fund Briefing Session, 3rd May 2017, Fareham...
Businesses are invited to come and learn about the Solent LEP's new £12.5m fund.
Posted 2017-04-10 15:28:14

Supporting the UK Supply Chain, Annual Conference and AGM, 10th May 2017, Warwick...
The Composites UK annual conference is a must-attend event for companies wanting to keep up-to-speed with strategic thinking, learn of forthcoming opportunities for business development and hear about new developments in technology, processes and materials.
Posted 2017-04-19 20:12:44

Cutting Edge Solutions for Marine Coatings, 16th May 2017, Brussels...
ECMAR, the Center of Maritime Technologies, the Maritime Development Center (MDC) and Aquatera are collaborating to host a brokerage event on 16th May in Brussels on 'Cutting Edge Solutions for Marine Coatings'.
Posted 2017-05-02 08:42:59