Email News December 2019

Welcome to the December 2019 Email Newsletter from Marine South East...
If you would like to submit an article for consideration please email the text and a suitable image or logo to sj@mseuk.org
Posted 2019-11-07 15:08:42

EU Maritime study reveals rapid rise in shipbuilding 'patent protection'...
The EU funded KETmaritime project, of which Marine South East is a partner, has revealed a rapid rise in patent applications as shipbuilding superpowers look to protect and commercially exploit new innovations in technology.
Posted 2019-11-12 14:23:00

Marine Surveyor Apprenticeships win Government Approval...
An industry-backed initiative led by the Institute of Marine Engineering, Science & Technology (IMarEST) to develop a four-year degree-level apprenticeship for those who aspire to become professional marine surveyors, has been formally approved by the UK government's Department for Education (DfE).
Posted 2019-11-18 15:11:31

Technology and Innovation in UK Maritime - MarRI call - Expression of Interest Stage...
The Department for Transport (DfT) is keen to continue to engage with industry to promote the development of technological innovation in UK maritime. For this reason, Technology and Innovation in UK Maritime Call was launched.
Posted 2019-11-18 15:55:22

Could Nanotechnology offer solution for vessel corrosion and bio-fouling?...
Nanotechnology will play a crucial role in the future management of vessel corrosion and biofouling; according to the EU funded maritime project KETmaritime.
Posted 2019-11-12 13:24:36

Volunteer opportunities to promote marine industry careers to school leavers...
EBP South are looking for professionals to inspire young people about their future at various Career's Inspiration events across the whole of Hampshire.
Posted 2019-11-07 15:14:54

New £15.4M Maritime and Fisheries Fund to fund innovation and technology...
The Marine Management Organisation will administer a new £15.4 million Maritime Fisheries Fund. It will fund innovation and the take up of new technology, improve port infrastructure, processing fisheries and aquaculture products, and support lifesaving vessel safety measures.
Posted 2019-11-12 15:45:14

Take advantage of the Solent Skills Support for the Workforce Programme and access £3.4M of ESF funding...
The Skills Support for the Workforce project within the Solent area focuses on supporting businesses with free training needs analysis and higher level skills to upskill the workforce with eligible learners over the age of 16.
Posted 2019-11-08 14:34:05

Would your business benefit from 12 hours of FREE one-to-one growth support?...
If the answer is yes, you may be able to participate in the Solent LEP Growth Accelerator Programme. The LEP are working in partnership with BDO LLP to support businesses based in the Solent looking to enhance their growth strategy.
Posted 2019-11-08 15:06:02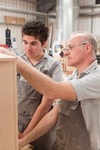 Based in Southampton and looking to employ an apprentice?...
Are you aware that you can apply for an apprenticeship levy transfer to help upskill your existing staff through apprenticeship delivery or recruit new apprentices?
Posted 2019-11-08 15:10:05

ORE Catapult launches Floating Offshore Wind Centre of Excellence...
The Offshore Renweable Energy (ORE) Catapult has launched a new multi-million pound Floating Offshore Wind Centre of Excellence to spearhead the development of next-generation offshore wind technologies.
Posted 2019-11-07 18:03:36

Oxford Innovation Space Incubator looking to support space data solutions for marine applications...
The Oxford Innovation Space Incubator is a growing community of over 100 entrepreneurs and technical experts interested in space technology and downstream space applications.
Posted 2019-11-07 18:24:47