Materials Research Exchange 2020; 18th-20th February 2020, London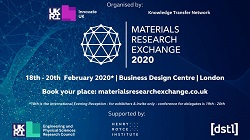 Materials Research Exchange 2020 is an exhibition, investor showcase and conference taking place on 18th - 20th February 2020 at the Business Design Centre in London.
Network with over 1500 delegates, meet key funding and decision makers and attend targeted seminars and keynote addresses. Over the two days of MRE 2020 you will be meeting a large part of the materials community under one roof. You will have the opportunity to walk around the exhibition and meet the wide array of novel materials innovators and research groups.

Sir Mark Walport, Chief Executive of UK Research and Innovation (UKRI), will formally open MRE 2020 and will provide the Welcome address. The other confirmed keynote speakers include Dr. Ian Campbell (Interim Executive Chair at Innovate UK), Dr. Alicia Greated (CEO, KTN) and Simon Edmunds (Deputy Executive Chair/Chief Business Officer, Innovate UK).

What else can you expect from Materials Research Exchange 2020?

* Hear engaging talks from researchers, innovators, investors and industry, presenting case studies on successful commercialisation of materials working in collaboration with academic researchers.

* Participate in masterclass sessions on IP and R&D Tax Credit.

* UK Circular Plastics Network Seminar on Day 2 of MRE, titled 'Packaging of the Future: Implications of recycled/novel materials and food contact', with speakers from the Food Standards Agency and BSI.

* Pitchfest: receive training on how to be pitch-ready to successfully present your case to investors.

* Hear and debate the scope of current developments in advanced materials across key supply chains and through different sectors, including the impact of emerging digital technologies such as Block Chains.

* Hear from policy makers with discussions and updates on relevant Industrial Strategy Challenge Fund (ISCF) support for businesses and academia.

* Seminars on metamaterials and 2D materials.

For more information on the event including exhibition details please visit:

http://www.materialsresearchexchange.co.uk/

MRE 2020 is now open to all UK university research groups working on advanced materials, as well as industry research centres based in the UK working collaboratively on advanced materials.

The event takes place at the Business Design Centre in London 19th-20th February 2020.


Send this story to a colleague
Posted 2019-11-08 12:53:02
« Back to news

Subscribe to our monthly newsletter &nbsp&nbsp