Visit of EU Member of Parliament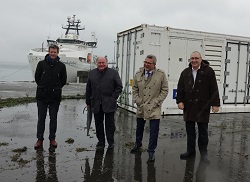 At the beginning of October 2020, the Chamber of Commerce in Brest welcomed Pierre Karleskind, Member of the European Parliament in charge of maritime affairs, to the port of Brest.
Discussions were held with representatives from the port of Brest (CCIMBO and Brittany region), Damen and Blue Water
Shipping companies that covered the environmental challenges of the European Green Deal, the Atlantic Blue Ports Project as well as a presentation of the InvaSave system.

The European Commission's Green Deal sets ambitious environmental objectives, particularly for maritime transport. As a result of the discussions a working session with the inter-parliamentary group 'searica', which is dedicated to maritime issues has been scheduled for 10th December 2020. Pierre Karleskind is also a member of the 'searica' inter-parliamentary group.

See item below for further details about the searica meeting.


Send this story to a colleague
Subscribe to our newsletter

Posted 2020-12-03 13:34:48
« Back to news